DC 6000 Series
Hillbilly & Rhythm and Blues
circa 1953-1955
by Jay Bruder
Research assistance: Ralph Barton, Kip Lornell, Les Moss, Frank Ruehl
Dave Sax, Dick Spottswood, Eddie Stubbs, Victor Pearlin.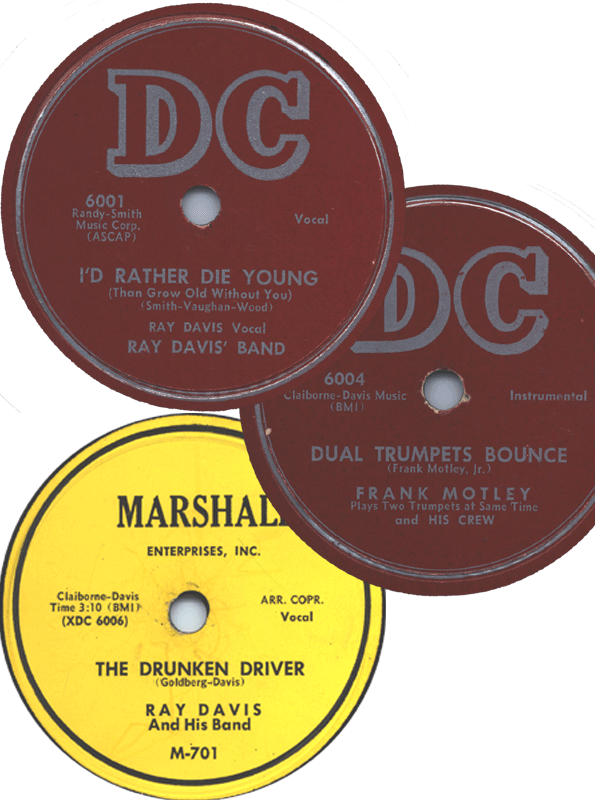 By 1953 Mrs. Lillian Claiborne was an eight-year veteran of the music publishing and recording field. She had already enjoyed a good run of 78 rpm single releases on DC records from 1947-1950. She had placed her most promising artists on other labels (The Cap-Tans to Gotham, Dot, and Coral, TNT Tribble, The Heartbreakers, and the Young Gospel Singers to RCA Victor, and Frank Motley to Gotham and later to Specialty -all with mixed results. By 1953 she was ready to get back into the local record business.
The DC 6000 series is full of surprises for the discographers. Most of the series has never been found under the "DC" label, but several 6000 series matrix numbers (but apparently not the original DC stampers) show up under the Gem (NYC) label and on Marshall. Specifically Gem 210 uses stampers marked DC 6000, Gem 211 is marked DC 6005, and one side of Gem 215 is drawn from DC 6004.
Two 6000 series records are still totally unaccounted for, DC 6002 and DC 6003. curiously, several Gem discs which were likely drawn from DC material were never issued. These include Gem 214 by The Rainbows, and Gem 216-217 including cuts by Frank Motley with vocals by Jimmy Crawford, Angel Face, and the Parakeets. Several, but not all, of the source recordings listed in the Gem paper files do survive and were issued for the collector market after 1970. It is possible that the missing numbers on Gem and on DC are related.
The use of DC masters on Marshall records illustrates the close collaboration between Mrs. Claiborne, by then the probable sole-owner of "DC" Records, and Manny Goldberg of MANGOLD Record Distribution of Baltimore, Maryland. Long time WAMU-FM bluegrass presenter, Ray Davis only vaguely remembers the session which produced DC 6001 and Marshall 701. Manny Goldberg made the arrangements with Mrs. Claiborne who did not know. What he clearly remembers was his great sense disappointment when he walked into the Washington, DC studio and saw the low quality "salt and pepper" microphones set up for the session instead of the high-end studio microphones he had anticipated. The audio evidence proves his disappointment to have been well founded, but better to have these performances than nothing at all. While one record from this session, DC 6001, was released on a "DC" 78 rpm, it may be that the other coupling from the session, DC 6006, was only released on the Marshall label even though the matrix numbers for Marshall 701 clearly show the "DC" origin of the material. To further demonstrate the coordination between Mrs. Claiborne and Manny Goldberg, Marshall 702 is "Wondering" b/w "Please Tell Me Your Mine" by the Twilighters with Frank Motley (Dual Trumpets) and his Crew, but there is no indication of a "DC" matrix number on Marshall 702.
Finally, I talked to Frank Motley about DC 6004. He did not remember much about the session. It was one of dozens he did for Mrs. Claiborne and these two songs were in his stage routine for many years.
DC 6000 Untraced on DC Probably 1953
FRANK MOTLEY (Dual Trumpeter) And His Crew
ANGEL FACE - Vocal
KEEP OUR HEAD UP HIGH A (6000 A)
(Frank Motley, Jr. - C. Dudley)
FRANK MOTLEY (Dual Trumpeter) And His Crew
ANGEL FACE - Vocal
WHAT'S THAT STUFF JOE'S GOT B (6000 B)
(Duke Morgan - Frank Motley, Jr.)
a. Untraced as DC 6000
b. Matrix numbers used on Gem 210 Silver on Dark Red. Confirmed 78 rpm copy.
DC 6001 Probably 1953
RAY DAVISí BAND; RAY DAVIS, Vocal
IíD RATHER DIE YOUNG A (6001 A)
(Smith-Vaughn-Wood) Claiborne-Davis, BMI
RAY DAVISí BAND; CHUBBY WISE, Fiddle
RAYíS BOOGIE B (6001 B)
(E. MARSHALL) Claiborne-Davis, BMI
a. Silver on Dark Red. Confirmed 78 rpm copy.
DC 6002 Untraced
DC 6003 Untraced
DC 6004 1953/08/15
FRANK MOTLEY and His CREW, JIMMY CRAWFORD Vocal
THAT AIN'T RIGHT (6004 A)
(Jimmy Crawford) Claiborne-Davis, BMI
FRANK MOTLEY and His CREW
DUAL TRUMPETS BOUNCE (6004 B)
(Frank Motley Jr.) Claiborne-Davis, BMI
Cashbox review 15 AUG 53 p.18.
a. Silver on dark red. Confirmed 78 rpm rpm copy.
b. Silver on dark red. Confirmed 45 rpm black wax copy.
c. Silver on dark red. Confirmed dark red vinyl 45 rpm copy Same "3B" in deadwax
as in the Marshall 45 rpm pressings noted below. Generally resembles Marshall
45 rpm pressings.
d. Gem 215 has "That Ain't Right" from a stamper labeled DC 6004A-1.
DC 6005 Untraced on DC
The CHORDS With FRANK MOTLEY and His CREW
DADDY LOVES MOMMY (6005 A)
(Mark Hill) BMI
IN THE WOODS (6005 B)
- BMI
a. Untraced as DC 6005
b. Matrix numbers used on Gem 211 Silver on Dark Red. Confirmed 78 rpm copy.
DC 6006 Untraced on DC Probably Fall 1953
RAY DAVIS And His Band
THE DRUNKEN DRIVER 3:10 (XDC 6006)
(Goldberg-Davis) © 24 Jul 1953 Claiborne-Davis (BMI)
YOU CAN'T BREAK MY HEART 2:07 (DC 6006)
(Cooley-Rogers) Hill & Range (BMI)
a. Untraced as DC 6006.
b. 45 rpm copy Marshall M-701-X 45 Black on yellow, 45 dark red vinyl,
ropes ~~~~~, "3 B" in wax on flip, confirmed.
c. 78 rpm copy of Marshall M-701, Black on yellow, confirmed.